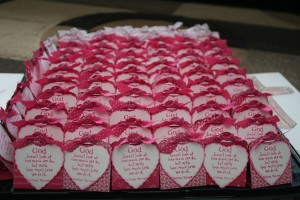 Don't you just love these quick and adorable Valentine treats?
Two little friends of mine (Charissa's daighters)made all of these for a Valentines Day gathering they were attending.
That is right….Corinne, age 12 and Linnea, age 10 used the Scallop Tag Topper Punch along with a 2 inch strips of DSP and some Melon Mambo Dotted ribbon–currently on the clearance rack!
They are filled with two Hershey Nuggets each and added a heart punch and greeting.
Simply cut your paper 2″ x 6 1/2″. Score at 2 1/2″ and 4″. Punch both ends with the Scallop Tag Topper Punch. Fold on both score lines. Adhere the Nuggest with glue dots to the center. Pull up the ends and tie a simple knot with ribbon through the holes. It is as simple as that!
Great job Corinne and Linnea! They look beautiful!
Order your Scallop Tag Topper Punch today! Item # 133324 $22.95
Think St Patty's Day or Easter treats as well as shower favors and more! And let's not forget how easy gift giving is when you add a punched tag to a wrapped package or gift bag.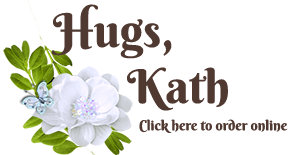 [shareaholic app="share_buttons" id="4832771"]