Get ahead of your holiday card making! This is a six month club- join for one month or join for all six. Each month, I will send you 8 card kits, two of four different designs. Everything will be cut and ready for you to assemble with some adhesive and your own stamp/ink for a greeting. Kits also include written instructions and envelopes. In addition, you will receive at least $25 in pretty new ppapers, ribbons and embellishments each month. That is like getting the 8 card kits for free!
AND, if you stay with the club all six months, I will send you a $25 gift card to be redeemed through me for any available items at the time. I
All kits will ship by the 20th of the month July-November. The December kit will be ready to ship by Dec 5th, if payment has been received.
If you prefer to order the July Kit Only, contact me. For August kit, continue to read on.
Christmas Kit-August Edition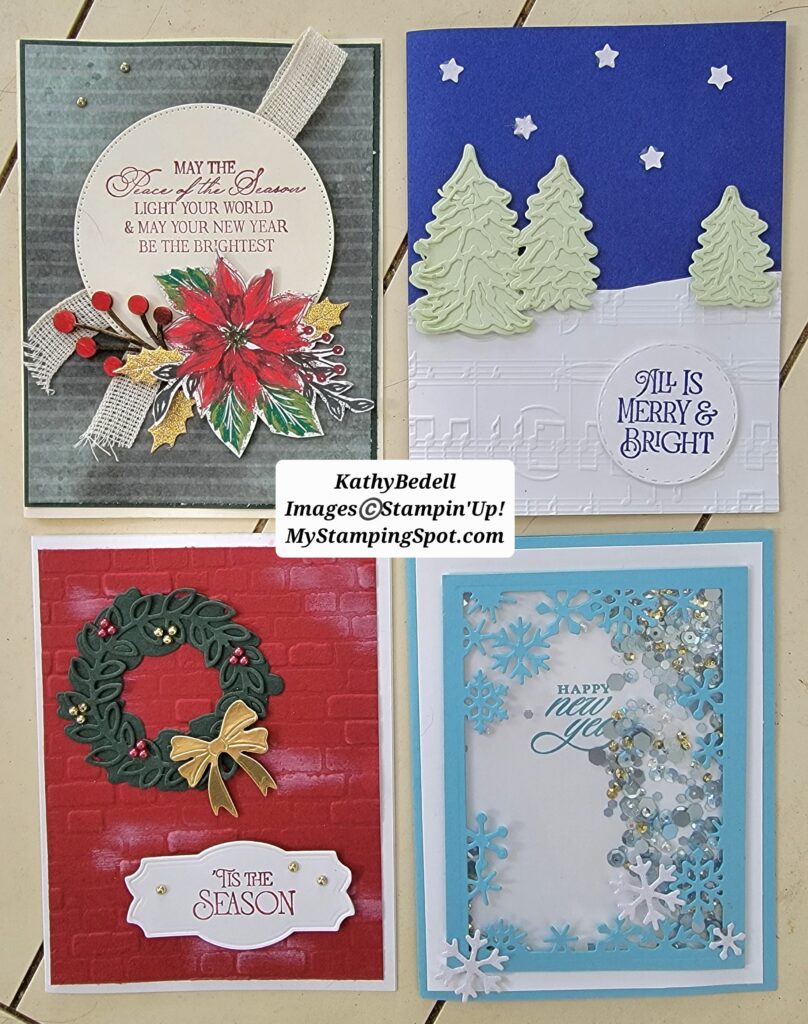 The August kits will include a shaker card- I chose a Happy New Year Greeting, but Let it Snow, Happy Holidays, etc would be equally as cute! I will include a video link in the written instructions for assembling this card. The August Kit Products will include: -1/2 pack of Boughs of Holly DSP, cut 6 x 12 -Full Package of Textured Elements -Full spool of Natural Ribbon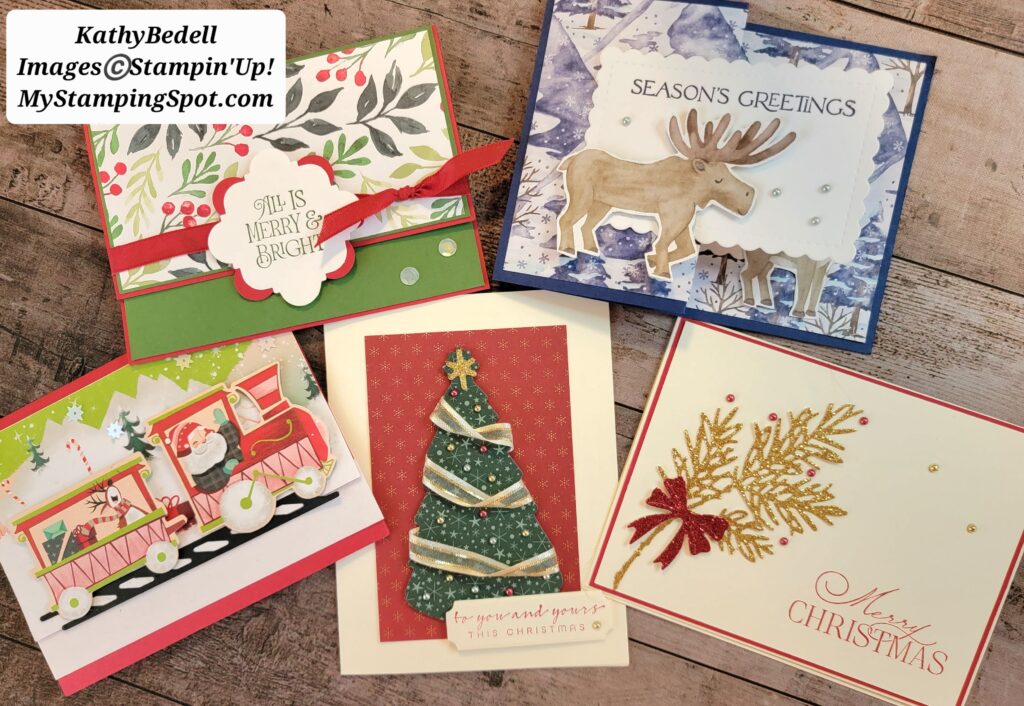 The September kits will include a fun fold card design and a bonus, free gift card design! Woo Hoo! That is 10 cards this month!
The September Kit Products will include:
-a full package of the Lights Aglow 6 x 6 DSP
-Full Package of Festive Pearls
-Full spool of Gold & Vanilla Satin Edged Ribbon
-1/2 Pack, cut 6 x 12 of the Glimmer 12 x 12 Specialty Paper
Read more or sign up for this awesome class by mail kit https://conta.cc/3KufOXL
Christmas Kit-October Edition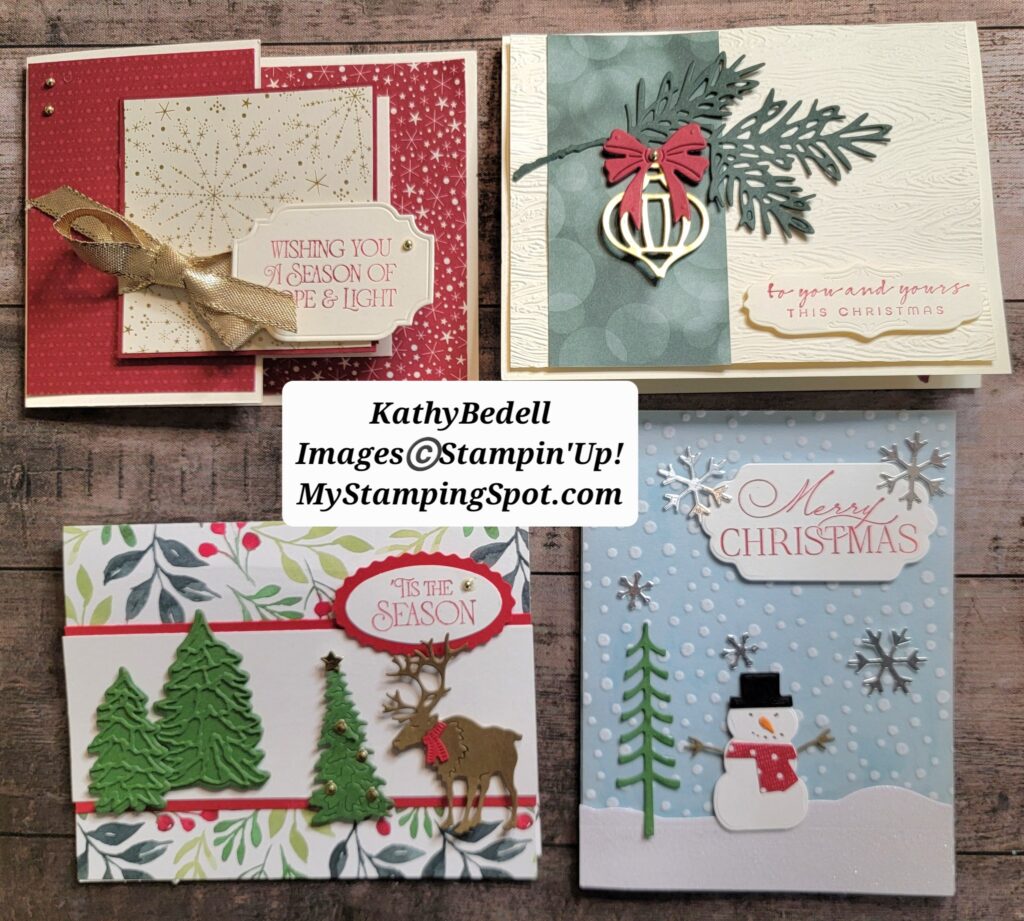 Make 8 cards, 2 each of 4 designs, including a fun fold!
You simply need an ink and a greeting to stamp these cards. Everything's is cut, scored, die cut and includes all embellishments to complete the cards as shown.

The card kits will also contain written directions and envelopes.
The October Kit Products will include:
-1/2 pack (cut 6″ x 12″) of Santa's Express DSP
– 1/2 pack (cut 6″ x 12″) of Snowflake Vellum
– full spool of Iridescent Trim – full pack of Adhesive Backed Stars
All cards were stamped using greetings from the Stamp set Brightest Glow. If you choose to purchase it or the Santa's Delivery Stamp set that matches the suite of products you are receiving, I will ship them to you at no additional cost. WooHoo! Free shipping saves you 11% on those items you add on to the class!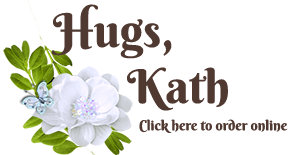 [shareaholic app="share_buttons" id="4832771"]