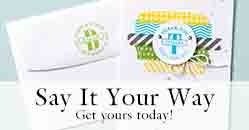 Do you ever wish you had a personalized name stamp?
This new design is fantastic! It would make a great gift for a new home or wedding! It is item #132852-$23.95. You will need to order clear block B, if you do not own one (#117147-$5.95).
It is simple to order and you can even preview what it will look like online! Don't like what you see, change it over and over again before you finalize your purchase.
I just ordered one to personalize the back of my handmade cards.
Need an end of the year teachers gift? How about a stamp and handmade stationary. There is some beautiful stationary on clearance (English Ivory #127538- $3.99)

This coordinates with the Clear Block B (#117147-$5.95) and the 13/8″ circle punch (#119860 $15.95) perfectly. Customize with the words Thank You or Hello, pair with the block, punch and some note cards (#107311 $5.95) and you have a great way to make quick, simple beautiful cards when you need them!
Please feel free to call or email me with questions.
HAPPY STAMPING!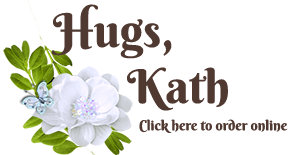 [shareaholic app="share_buttons" id="4832771"]