Black Friday Savings
Special deals for a special weekend!
DEAL 1:
I would like to thank you all for being loyal customers. To show my gratefulness during this special season, I am offering you 20% off all purchases! Yes, 20% off all papers, inks, stamps, Big Shot, adhesives and more. Virtually everything in the catalog is on sale! *** Online extravaganza sale items are excluded from this offer***
This offer is only good through My Stamping Spot. No other demonstrator will offer this deal. Please DO NOT log onto my website and order it or Stampin'Up! will charge you full price. Give me a call at 603 475-9354 or email me at [email protected] to place your order. To receive your 20% discount all orders must be paid by cash or check. If your order is large, I am willing to send you a PayPal invoice so that you can use your charge card.
DEAL 2:
If you place an order for $150 worth of merchandise (before S&H), you will receive the 20% off (in this case $30) PLUS you can choose another $25 in free merchandise! That is $55 of fun for free!
20 % Offer ends at noon on November 30,2014.
DEAL 3:
Purchase a Big Shot between Wednesday the 26th through Sunday the 30th by noon and you will receive the 20% discount plus you can choose one FREE Big Shot Accessory valued at $20 or less.
DEAL 4:
For every $50 you spend before S&H during 11/26-11/30 by noon, you will receive 5 Stamp-A-Stack kits from the choices shown below. Everything will be cut and ready for you to stamp and assemble at home or at one of my open stamps. You can choose 5 cards in one design or 5 different designs.. Again, DO NOT do online ordering or you will not receive the 20%discount!
Deals can be combined!
——————————————————————————–
STAMP-A-STACK  2014
Bring back the charm of an old fashioned Christmas by sending handmade holiday cards this year!
Join our Stamp-A-Stack this year for some holiday cheer, yummy food and creativity.
You choose up to four designs for a total of 20 cards and envelopes for $25. If you are a member of any of my clubs (stamp, scrapbook, Big Shot or ink), your price will be 20 cards for $15.
Not a member? There are other ways to save.
1)Spend $50 in merchandise before S&H and get the member price.
2)Bring a friend that is currently not a customer of mine and receive a $5 discount. There is no limit to this offer!
Don't live close by? No problem! These kits can be mailed for an additional $2.50 mailing fee. I will do all the punching and Big Shot cutting for you, but Stampin'Up! Does not allow us to pre stamp images so you will need your own stamp sets and inks. Remember, spend $50 and you will get the discounted kits and I will ship for free!
Here is how it works:
1) Decide how many cards you need to send. Order them in sets of 20
2) Choose your designs from more than 30 samples
3) Choose your date.
4) I will cut and prep everything for you. You come at on your desired day to enjoy a pot of hot soup, bread, desserts and spirits. There will be door prizes and many other fun treats! Each person will also receive a full, brand new stamp set!
Dates: Friday, November 21st 6-11 PM or Sunday, November 13th from 1-5pm.
NO STAMPING EXPERIENCE REQUIRED! All directions will be included and techniques needed can be taught as you go. This is a great way to start as these cards get put together assembly style to minimize confusion.
Call or or email me your date and card choices. See you then!
Please choose from the following selections:
PLEASE NOTE THAT THE CARD NUMBER IS ABOVE THE CARD DESIGN.
Choice 1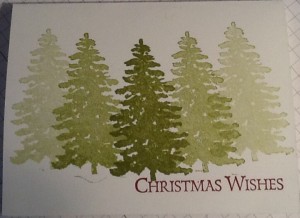 Choice 2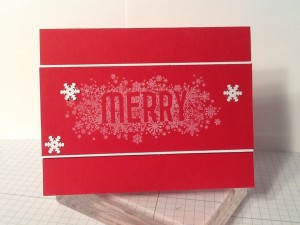 Choice 3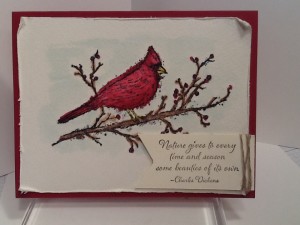 Choice 4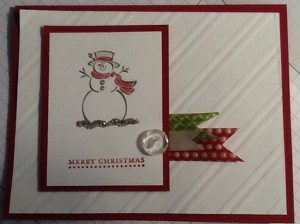 Choice 5
Choice 6
Choice 7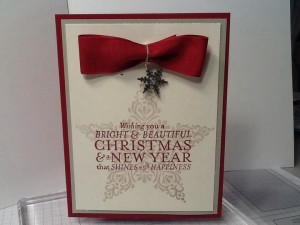 Choice 8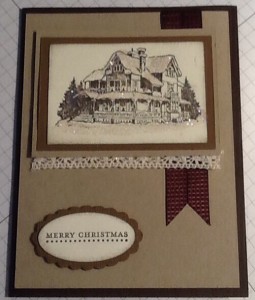 Choice 9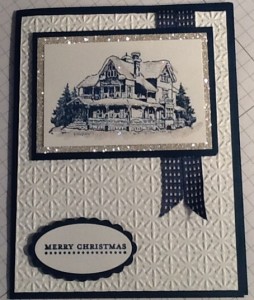 Choice 10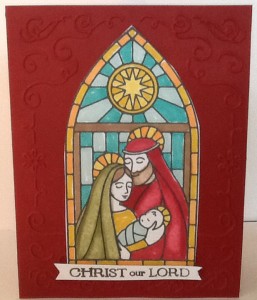 Choice 11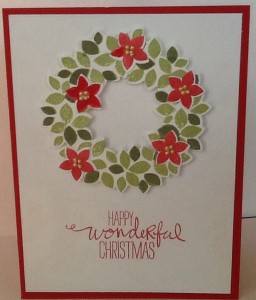 Choice 12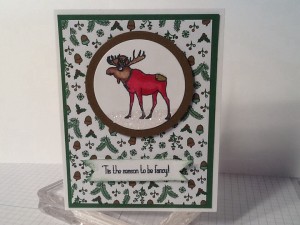 Choice 13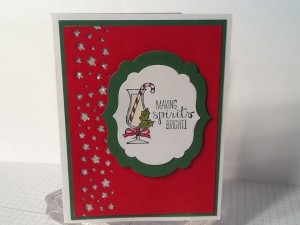 Choice 14
Choice 15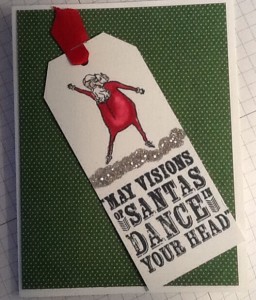 Choice 16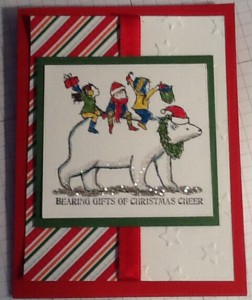 Choice 17
Choice 18
Choice 19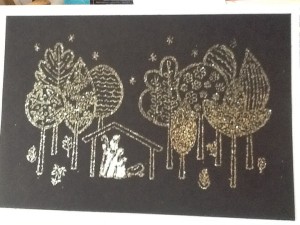 Choice 20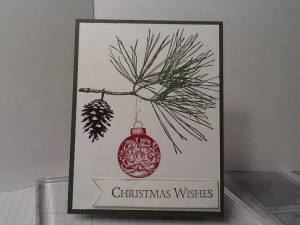 Choice 21
Choice 22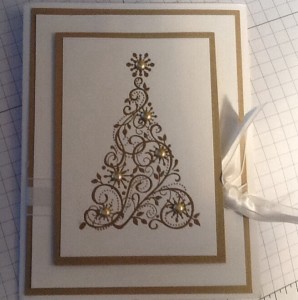 Choice 23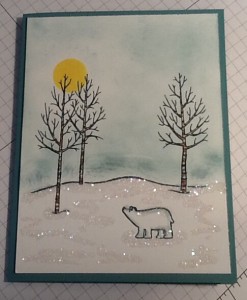 Choice 24
Choice 25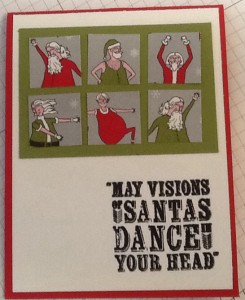 Choice 26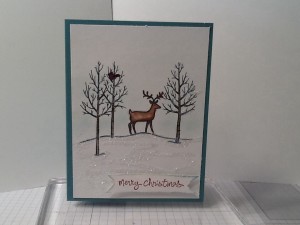 Choice 27
Choice 28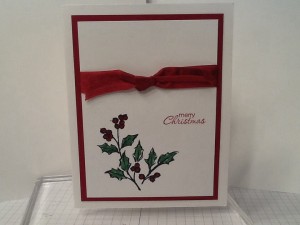 Choice 29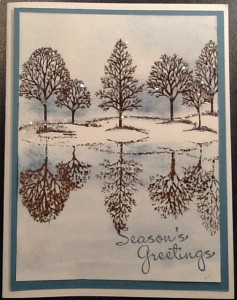 Choice 30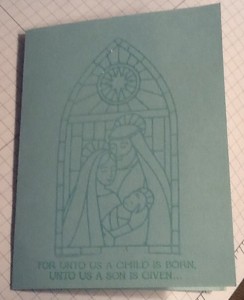 Choice 31
page 14 of the holiday catalog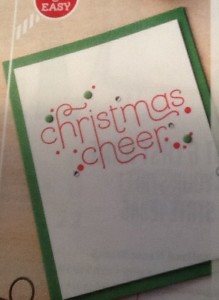 Choice 32
photo courtesy Wendy Jansen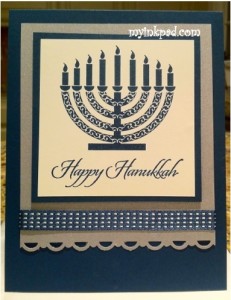 Choice 33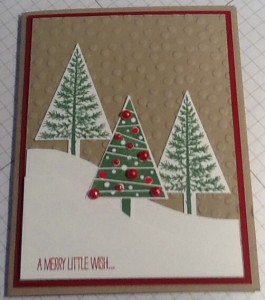 —————————————————————————–Upcoming Dates:
-20% OFF Sale runs
Through Nov 30th at Noon.
-Nov 10th @ 7PM
Stamp Club
-Nov 19th @ 7 PM
Scrapbooking Club
-Nov 21st 6-11PM
Stamp-A-Stack
-Nov 23rd 1-5 PM
Stamp-A-Stack
-Nov 26th-30th @ Noon
Black Friday Extended Sale
-Dec 5th 9AM-1PM
Open Stamp
-Dec 8th @ 7 PM
Stamp Club
-Dec 10th @ 7 PM
Scrapbook Club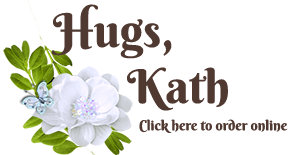 [shareaholic app="share_buttons" id="4832771"]