Hooray! We have a fun new place to play! Okay, not new, but it feels new! I have a few loose ends to tidy up and some more stamp sets to sort through, but otherwise, it is looking pretty good 🙂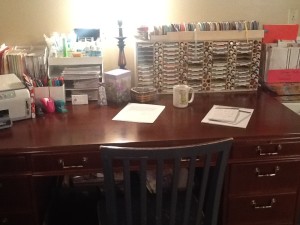 I love my new desk area….lots of great space for me to work and stay organized.
The armoire now hides what used to be on those open racks. Stored here are Dimensionals, snails, cutters, etc.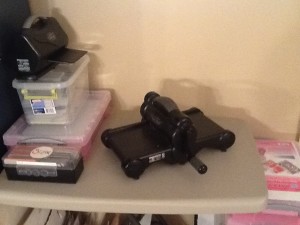 We now have an official Big Shot table. This will make it less crowded when there are a lot of us working! Wait until you see how I am storing my dies now! I will have you all hooked.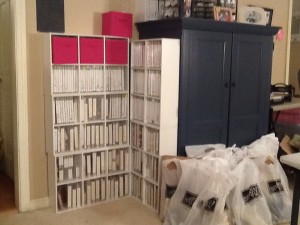 Awesome stamp storage! I still need to organize by holiday and alphabetized, but as you can see, this system will be much easier to find what we are looking for.
Did you notice that this weeks orders are in and sorted? Call me if you would like to collect your before our next meetings!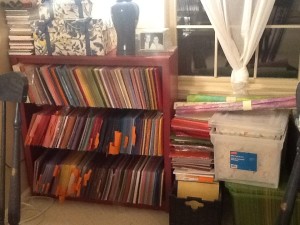 Super paper storage! Okay, it still needs to be sorted by color, but Rome wasn't built in a day (or 3). The 8 1/2 x 11″ is on rack. The 12 x 12″ is to the right of the rack in totes. That is sorted! Yeah!!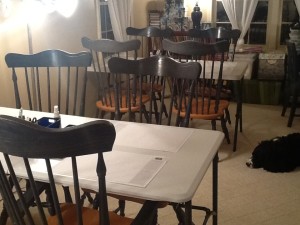 And finally, we have very clear seating for 12…..well, if you move Tucker:-)
I am holding an open stamp this Friday 9AM to Noon. Come by and check out the new and improved digs. Bring a project to work on or I can give you one. I will try to have some of the GRAB BAGS ready to go. They will be $5 and heavy!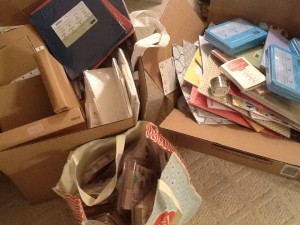 This is just SOME of the stuff I will be filling the bags with. All paper, brads, ribbons, buttons and kits will be brand new. Some current and some retired. Some of the stamp set are new and some are gently used. Some are new and some are retired.
If you would like me to hold a bag or two for you, drop me an email or let me know on Facebook. I will put your name on random bags.
Please RSVP if you would like to come by on Friday for coffee and a light breakfast. Hope to see you then!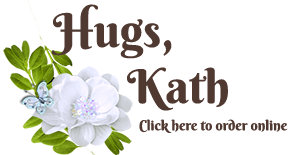 [shareaholic app="share_buttons" id="4832771"]